Japanese Fountain Pen (2)
112,400 JPY
The following fee(s) will be charged in addition to the product price above:
*Shipping Fee (from Japan):
North America & Europe (FedEx Z): 2,200 JPY (approx. 19.13 USD or 16.92 EUR)
(The package weight will be less than 1.0 kg. Please refer to the "Shipping Fee Table" for other countries/regions.)
*Import Duties/Taxes: The shipment of this item should be subject to customs processing and additional charges. Please contact your country's customs office for further information.
(*Japanese HS Code for this product: 9608.30)
1 in stock
Description
A "Japanese-made" fountain pen with a leather case attached.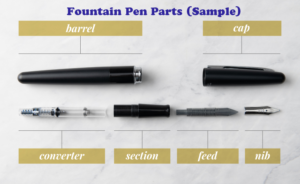 * Nib:  Made in Japan (made at Mr. Kubo's studio)
* Converter or Cartridge:  a converter type
* Barrel & Cap: The cigar-shaped barrel is made out of rare "Chinese quince wood."
* Sizes: length 15 cm, body diameter 1.5 cm, cap diameter 1.8 cm
* Please note that the colors of the patterns in the photos may be a little different from those of the actual product.
* The size and weight but may be a little different as all the products are hand-crafted.
For more details about "Japanese Fountain Pens," click here.
*Delivery: The product will be shipped within 7 business days (but most likely 3 to 4 business days) after the order is settled. The delivery time will differ between 3 and 14 days depending on the delivery service and the destination country/region, but please remember there might be delay due to customs processing. Once the product is shipped, we will let you know the "tracking number" of the package so that you can monitor the delivery status.
*Out-of-Stock Case: In case the product you ordered turned out to be out of stock due to the timing of other order(s) by somebody else, we may have to cancel your order, which will be informed to you immediately by email, and all the payment you made will be refunded to you swiftly.
*Cancellation: In case you wish to cancel your order, please email to us within 24 hours of your order settlement. (See the "Cancellation Policy.")
*Returns: No returns accepted except initial defects. (See the "Return Policy.")